How do you translate to blame in Italian?
In this lesson, we'll take a look at this very expression, also known as collocation, and even talk about some words you can use while driving.
Let's get started! Iniziamo!
---
To blame in Italian
First of all, let's translate to blame in Italian.
To blame someone can be translated as dare la colpa a qualcuno, which literally means "to blame at someone".
Dare la colpa a qualcuno
To blame someone
It can also be translated as incolpare, but this verb is slightly less common.
Incolpare (qualcuno)
To blame (someone)
---
To blame in Italian – Let's break it down!
Dare la colpa (a qualcuno) literally means to give the fault (to someone).
Dare
To give
La
Feminine definite article
Colpa
Fault
Non è colpa mia! Non dare la colpa a me!
It is not my fault! Don't blame me!
Dare is an irregular verb of the first -are group. Its indicativo presente conjugation is as follows.
| | |
| --- | --- |
| io | do |
| tu | dai |
| lui, lei | dà |
| noi | diamo |
| voi | date |
| loro | danno |
Title: Italian All-in-One For Dummies
Language: English / Italian
Publisher: For Dummies
Pages: 672
Learn to speak Italian like a native? Easy.
Italian All-in-One For Dummies appeals to those readers looking for a comprehensive, all-encompassing guide to mastering the Italian language. It contains content from all For Dummies Italian language instruction titles, including Italian For Dummies, Intermediate Italian For Dummies, Italian Verbs For Dummies, Italian Phrases For Dummies, Italian Grammar For Dummies, and Italian For Dummies Audio Set.
You'll find this verb in a variety of other expressions in Italian. It is a very common verb. Some of these expressions are:
Dare di matto
To go ballistic
(To give of mad)
Dare un'occhiata
To take a look
(To give a glance)
Dare un passaggio
To give a ride/lift
➡️ Find out example sentences for "to give a ride" in Italian!
For example, you could say:
Il mio gatto dà spesso di matto quando siamo dal veterinario.
My cat often goes ballistic when we are at the vet.
Potresti dare un'occhiata all'aspirapolvere? Penso che sia rotto.
Could you take a look at the vacuum cleaner? I think it's broken.
Vuoi che ti dia un passaggio fino a casa?
Do you want me to give you a ride home?
---
Colpa
We said that the translation for to blame in Italian is dare la colpa. Colpa is a feminine noun.
Una colpa
A fault
Delle colpe
Some faults
La colpa
The fault
Le colpe
The faults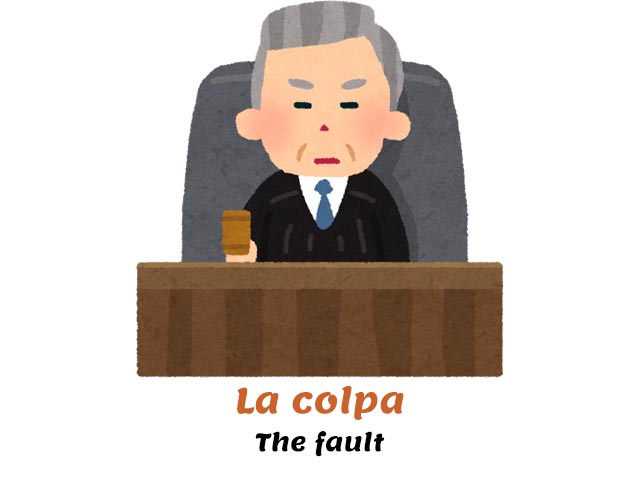 Di chi è la colpa?
Whose fault is it?
L'imputato si è macchiato di molte colpe.
The defendant was guilty of many faults.
It's important to remember that colpa cannot translate "fault" with the meaning of "defect". That would be difetto.
La lavatrice ha un difetto. Pensi di poterla sistemare?
The washing machine has a defect. Do you think you can fix it?
Now let's take a look at some words and expressions you may come across while talking about fault.
---
Useful expressions when talking about fault
Assumersi la responsabilità
To take responsability
Sentirsi in colpa
To feel guilty
(To feel at fault)
Cospargersi il capo di cenere
To wear sackcloth and ashes
(To sprinkle your head with ashes)
Capro espiatorio
Scapegoat
For example, you could say…
L'autista non si assume la responsabilità dell'incidente.
The driver does not take responsibility for the accident.
Mi sento in colpa per non essere intervenuto.
I feel guilty for not stepping in.
Il figlio si cosparse il capo di cenere e chiese scusa ai propri genitori.
The son wore sackcloth and ashes and apologized to his parents.
Stai solo cercando un capro espiatorio per sfogarti con qualcun altro.
You are just looking for a scapegoat to vent to someone else.
---
To blame in Italian – Examples
È stata incolpata la persona sbagliata. Federico è innocente.
The wrong person was blamed. Federico is innocent.
Non puoi dare la colpa a Paolo. Lui non era neanche presente alla festa.
You can't blame Paolo. He was not even present at the party.
È facile dare la colpa a chi non può difendersi.
It is easy to blame those who cannot defend themselves.
---
Want more?

Now that you know how to say to blame in Italian, help Lingookies grow with a like!
Now that you've seen how to say to blame in Italian, you might want to keep learning Italian online with these free Italian resources:
❤️ If you liked this Lingookie, share it with your social media friends who are also studying Italian!