How do you translate to ask a question in Italian?
In this lesson, we'll take a look at this very expression, also known as collocation, and even talk the different kinds of questions in Italian.
Let's get started! Iniziamo!
---
To ask a question in Italian
First of all, let's translate to ask a question in Italian.
Fare una domanda
To ask a question
---
To ask a question in Italian – Let's break it down!
Fare una domanda literally means to do a question.
Fare
To do, to make
Una domanda
A question
You can't really translate this expression literally as "chiedere una domanda", where chiedere means to ask. However, you can ask for something, which is translated into Italian as chiedere qualcosa.
Chiedere qualcosa
To ask (for) something
L'ospite chiese un bicchiere d'acqua.
The guest asked for a glass of water.
Fare
Fare is a verb of the first -are group and it happens to be the most common verb in the Italian language. Its indicativo presente conjugation is irregular and is as follows.
| | |
| --- | --- |
| io | faccio |
| tu | fai |
| lui, lei | fa |
| noi | facciamo |
| voi | fate |
| loro | fanno |
It's a common mistake even for some native speakers to say "voi facete". It sounds so natural, doesn't it? However, this is a BIG mistake. So remember: the correct conjugation is voi fate!
You will find fare in a huge number of expressions. Some of them are:
Fare spesa
To go grocery shopping
Fare un disegno
To make a drawing
Fare i compiti
To do the homework
For example, you could say:
La mamma fa spesa al supermercato.
Mom goes grocery shopping at the supermarket.
Giovanna sa fare dei bellissimi disegni.
Giovanna can make some very nice drawings.
Federico e Marta stanno facendo i compiti.
Federico and Marta are doing their homework.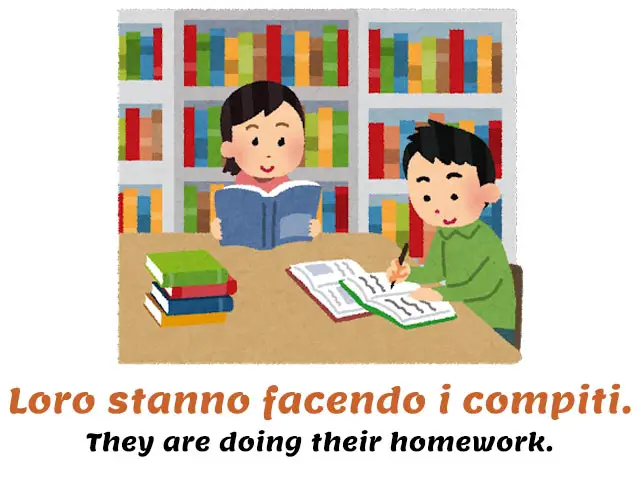 ---
Domanda
We said that the translation for to ask a question in Italian is fare una domanda. Domanda is a feminine noun. It is often followed by a descriptive adjective.
Una domanda
A question
Delle domande
Some questions
La domanda
The question
Le domande
The questions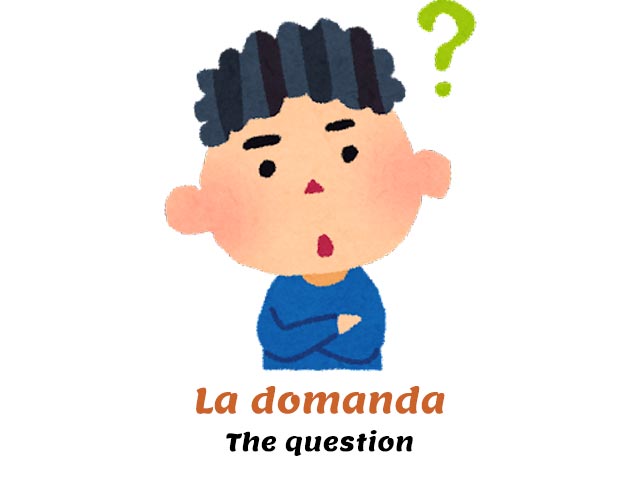 Posso farti una domanda?
Can I ask you a question?
Nessuno degli studenti aveva domande da fare.
None of the students had any questions to ask.
Domanda can also mean demand.
La domanda di ingegneri è raddoppiata negli ultimi anni.
The demand for engineers has doubled in recent years.
There are many types of questions. Some you may find in Italian are…
Domanda imbarazzante
Embarrassing question
Domanda lecita
Legitimate question
Domanda retorica
Rhetorical question
For example, you could say…
I bambini fanno spesso domande imbarazzanti.
Children often ask embarrassing questions.
Ti ho fatto una domanda lecita: dove sei stato ieri notte?
I asked a legitimate question: where were you last night?
È una domanda retorica o vuoi davvero una risposta?
Is this a rhetorical question or do you really want an answer?
---
To ask a question in Italian – Examples
Qualcuno ha domande da fare?
Does anyone have any questions?
Sono stato indelicato, non avrei dovuto farti quella domanda.
I was tactless, I shouldn't have asked that question.
Il test è composto da dieci domande con risposta multipla.
The test consists of ten multiple-choice questions.
---
Want more?
Now that you know how to say to ask a question in Italian, help Lingookies grow with a like!
Now that you've seen how to say to ask a question in Italian, you might want to keep learning Italian online with these free Italian resources:
❤️ If you liked this Lingookie, share it with your social media friends who are also studying Italian!