The passato remoto in Italian is the third common past tense in the everyday language (the first would be passato prossimo and the second the imperfetto), so it's very important for you to learn it well if you want to talk about past events with your Italian pals.
Il bambino sorrise.
The child smiled.
In this lesson, we will see how to form and when to use the passato remoto in Italian.
Let's get started! Iniziamo!
---
When do you use the passato remoto in Italian?
The passato remoto is mainly used in literature and history to talk about events that happened a long time ago. Its use in the spoken language is restricted to the regional use of Italian in Southern Italy. In movies and on the radio, for example, you will almost never hear it because it sounds kind of old-fashioned.
It usually equals to the English past simple tense, since we're talking about events that started and ended in the past.
If it's so rare, why do you need to learn how to conjugate verbs in this tense or at least learn to recognize and understand them?
You see, almost all published novels in Italian, whether they are translated from other languages or written in this language, feature a combination of the passato remoto and imperfetto tenses.
If you don't learn at least the most common conjugations in the passato remoto in Italian, you won't be able to read books in Italian. You need at least a passive knowledge of this tense to get by.
Il cacciatore catturò il cervo.
The hunter caught the deer.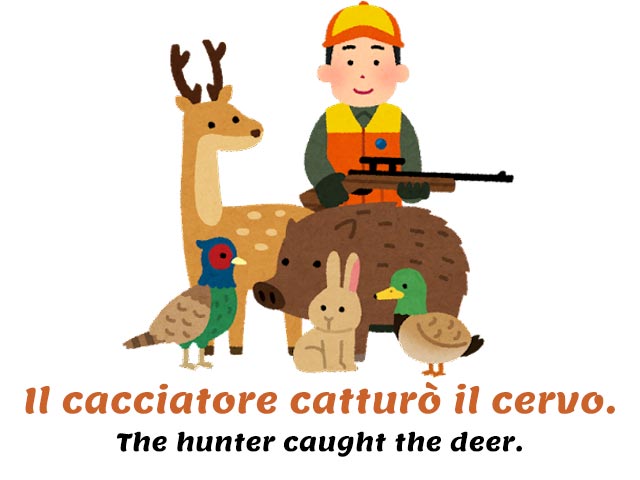 ---
Use cases of the imperfetto in Italian
The passato remoto in Italian is used…
In all published books and novels that are narrated in the past tense (the vast majority).
Frodo raccolse l'anello.
Frodo picked up the ring.
Harry lanciò un incantesimo.
Harry cast a spell.

In southern Italy, usually replacing the passato prossimo tense.
Tornammo dalla festa a mezzanotte.
We came back from the party at midnight.
L'altro giorno andai al cinema.
The other day I went to the cinema.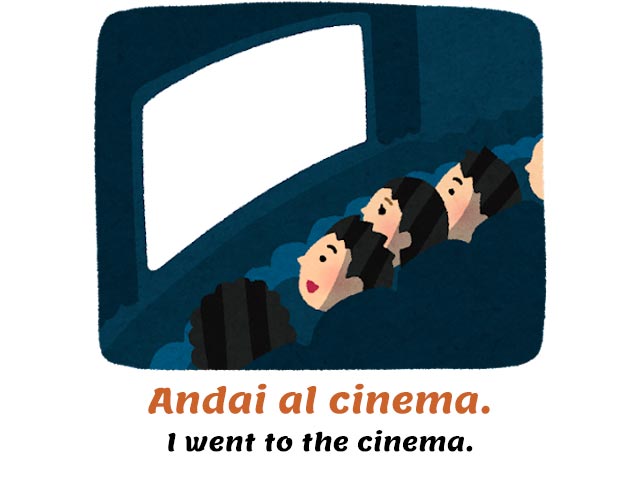 When people recall very old events that they witnessed in the first person, they won't use the passato remoto, but the trapassato prossimo tense (past perfect in English).
The passato remoto in Italian is reserved for very old events we are not emotionally involved with or are not anymore. For example, a history teacher might use this tense to talk about Ancient Rome.
---
How do you form the passato remoto in Italian?
The passato remoto in Italian is very easy to conjugate because it's not a compound verb. On the other hand, however, it features many irregular verbs, so you will have to do a fair bit of memorizing.
Conjugating regular verbs in the passato remoto
For regular verbs, you just have to take the stem of the verb you want to conjugate and add these endings:
-ai/-etti/-ii
-asti/-esti/-isti
-ò/-ette/-ì
-ammo/-emmo/-immo
-aste/-este/-iste
-arono/-ettero/-irono
What's the stem of a verb?
Italian verbs in the infinitive end in -ARE, -ERE and -IRE.
Cut out this part and you will be left with the root verb.
Examples:
tremare ➡️ trem-
piovere ➡️ piov-
cucire ➡️ cuc-
Verb endings for passato remoto in Italian are added to these root forms of the verb for each person.
| | | | |
| --- | --- | --- | --- |
| pronoun | trovARE | dovERE | capIRE |
| io | trovai | dovetti / dovei | capii |
| tu | trovasti | dovesti | capisti |
| lui/lei | trovò | dovette / dové | capì |
| noi | trovammo | dovemmo | capimmo |
| voi | trovaste | doveste | capiste |
| loro | trovarono | dovettero / doverono | capirono |
For example, you could say…
Dovemmo uscire di casa all'alba.
We had to leave the house at dawn.
Trovammo un tesoro.
We found a treasure.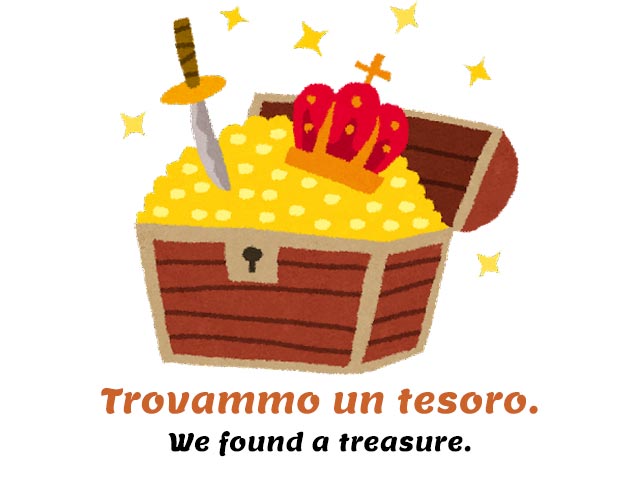 You will notice that for the -ERE verb class there are two possible conjugations for some persons. You can choose either one, but the ones ending in -etti/ette/ettero are much more common.
---
Irregular verbs in the passato remoto
I told you that there are many exceptions to the conjugations of the passato remoto in Italian. There are many irregular verbs featuring an irregular stem in some persons only, while other verbs are completely irregular like essere, to be.
First, let's see the conjugations for essere and avere.
Passato remoto of essere and avere
| | | |
| --- | --- | --- |
| | essere | avere |
| io | fui | ebbi |
| tu | fosti | avesti |
| lui/lei | fu | ebbe |
| noi | fummo | avemmo |
| voi | foste | aveste |
| loro | furono | ebbero |
You will notice that the verb avere is regular for some persons and irregular for others. Many other verbs share this behavior!
I'm listing here the passato remoto conjugations for some of the irregular verbs you will commonly find in books.
| | | |
| --- | --- | --- |
| fare | to do, make | feci, facesti, fece, facemmo, faceste, fecero |
| stare | to stay | stetti, stesti, stette, stemmo, steste, stettero |
| dire | to say, tell | dissi, dicesti, disse, dicemmo, diceste, dissero |
| volere | to want | volli, volesti, volle, volemmo, voleste, vollero |
| chiedere | to ask | chiesi, chiedesti, chiese, chiedemmo, chiedeste, chiesero |
| rispondere | to reply | risposi, rispondesti, rispose, rispondemmo, rispondeste, risposero |
| andare | to go | andai, andasti, andò, andammo, andaste, andarono |
| venire | to come | venni, venisti, venne, venimmo, veniste, vennero |
| chiudere | to close | chiusi, chiudesti, chiuse, chiudemmo, chiudeste, chiusero |
| vedere | to see | vidi, vedesti, vide, vedemmo, vedeste, videro |
| guardare | to look at | guardai, guardasti, guardò, guardammo, guardaste, guardarono |
| rimanere | to remain | rimasi, rimanesti, rimase, rimanemmo, rimaneste, rimasero |
| prendere | to take | presi, prendesti, prese, prendemmo, prendeste, presero |
| dare | to give | diedi, desti, diede, demmo, deste, diedero |
| togliere | to take away | tolsi, togliesti, tolse, togliemmo, toglieste, tolsero |
| muovere | to move | mossi, muovesti, mosse, muovemmo, muoveste, mossero |
| leggere | to read | lessi, leggesti, lesse, leggemmo, leggeste, lessero |
| scrivere | to write | scrissi, scrivesti, scrisse, scrivemmo, scriveste, scrissero |
| rompere | to break | ruppi, rompesti, ruppe, rompemmo, rompeste, rompemmo |
| conoscere | to know | conobbi, conoscesti, conobbe, conoscemmo, conosceste, conobbero |
| sapere | to know | seppi, sapesti, seppe, sapemmo, sapeste, seppero |
| ridere | to laugh | risi, ridesti, rise, ridemmo, rideste, risero |
| piangere | to cry | piansi, piangesti, pianse, piangemmo, piangeste, piansero |
| nascere | to be born | nacqui, nascesti, nacque, nascemmo, nasceste, nacquero |
| crescere | to grow up | crebbi, crescesti, crebbe, crescemmo, cresceste, crebbero |
| morire | to die | morii, moristi, morì, morimmo, moriste, morirono |
| uccidere | to kill | uccisi, uccidesti, uccise, uccidemmo, uccideste, uccisero |
| cadere | to fall | caddi, cadesti, cadde, cademmo, cadeste, caddero |
| correre | to run | corsi, corresti, corse, corremmo, correste, corsero |
| decidere | to decide | decisi, decidesti, decise, decidemmo, decideste, decisero |
| vincere | to win | vinsi, vincesti, vinse, vincemmo, vinceste, vinsero |
| difendere | to defend | difesi, difendesti, difese, difendemmo, difendeste, difesero |
| perdere | to lose | persi, perdesti, perse, perdemmo, perdeste, persero |
| spendere | to spend | spesi, spendesti, spese, spendemmo, spendeste, spesero |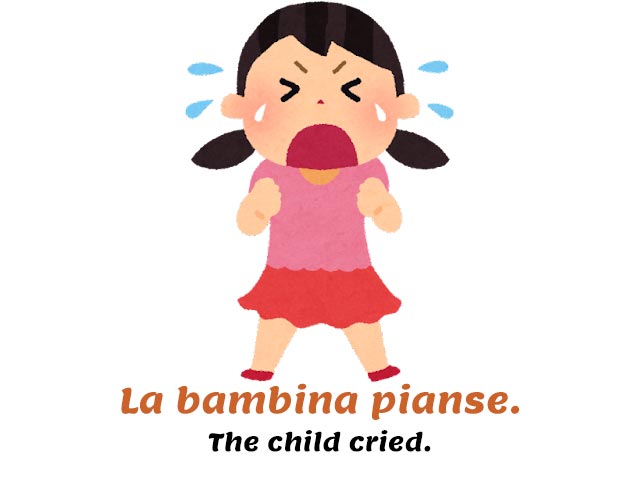 Examples with the passato remoto in Italian…
L'uomo non rispose alla domanda.
The man did not answer the question.
I ragazzi scrissero una frase sul muro.
The boys wrote a sentence on the wall.
Il pedone guardò a sinistra.
The pedestrian looked to the left.
Dicemmo la verità.
We told the truth.
Fu una splendida giornata.
It was a wonderful day.
Vidi un gufo sul ramo di un albero.
I saw an owl on the branch of a tree.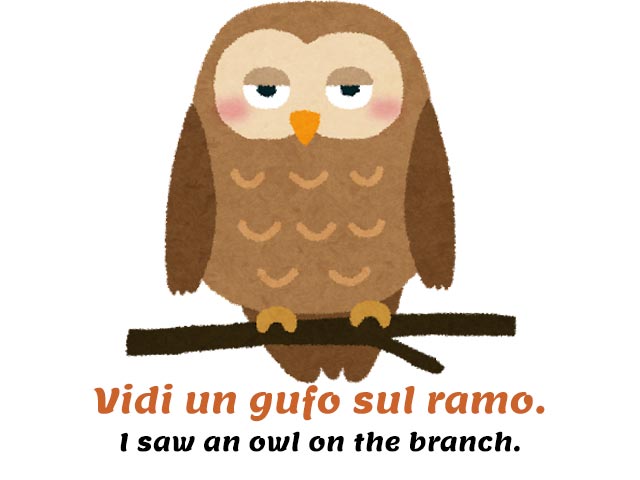 And that's it with the passato remoto in Italian! If you still have any doubts about this tense, feel free to leave a comment.
---
What next?
Now that you've seen the passato remoto in Italian, you might want to keep learning Italian online with these free Italian resources:
Or you might also want an excellent offline Italian grammar resource to take with you at all times (Amazon).
Title: Italian All-in-One For Dummies
Language: English / Italian
Publisher: For Dummies
Pages: 672
Learn to speak Italian like a native? Easy.
Italian All-in-One For Dummies appeals to those readers looking for a comprehensive, all-encompassing guide to mastering the Italian language. It contains content from all For Dummies Italian language instruction titles, including Italian For Dummies, Intermediate Italian For Dummies, Italian Verbs For Dummies, Italian Phrases For Dummies, Italian Grammar For Dummies, and Italian For Dummies Audio Set.
❤️ If you liked this guide on the passato remoto in Italian, consider sharing it with your social media friends who are also studying Italian.