➡️ Go to the objects in the living room interactive exercises.
Living room vocabulary in Italian 1-5
Il salotto
The living room
La luce del sole illumina il salotto.
Sunlight illuminates the living room.
Il gatto dorme sul divano.
The cat is sleeping on the sofa.
Mio nonno siede sulla poltrona.
My grandpa sits on the armchair.
Il tavolino
The coffee table
I biscotti sono sul tavolino di vetro.
The cookies are on the glass coffee table.
Questa sedia è molto scomoda.
This chair is very uncomfortable.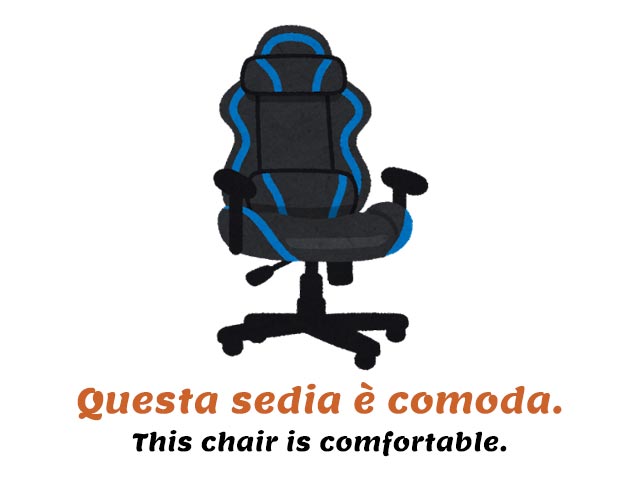 ---
Living room vocabulary in Italian 6-10
Il televisore è acceso.
The tv is on.
Qualcuno ha rotto il vetro della finestra.
Someone broke the glass of the window.
Il soprammobile
The ornament, the knick knack
Ho comprato un soprammobile di cristallo.
I bought a crystal ornament.
Il davanzale
The windowsill
Il gatto dorme sul davanzale.
The cat sleeps on the windowsill.
Tengo una piccola lampada sulla scrivania.
I keep a small lamp on my desk.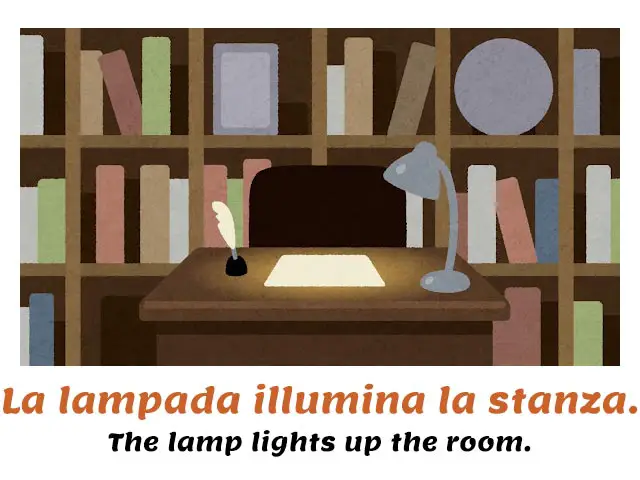 ---
Living room vocabulary in Italian 11-15
Il lampadario
The chandelier
Quel lampadario risale agli anni '60.
That chandelier dates back to the 1960s.
Il cuscino è macchiato di caffè.
The pillow is stained with coffee.
Il tappeto
The carpet, the rug
Il tappeto è pieno di polvere.
The carpet is full of dust.
La biro cade e sporca il pavimento d'inchiostro.
The ballpoint falls and smears the floor with ink.
C'è un vaso di fiori di fianco alla porta.
There is a flower pot beside the door.
---
Living room vocabulary in Italian 16-19
La libreria contiene oltre 200 libri.
The library contains more than 200 books.
Le tende sono tirate davanti alla finestra.
The curtains are drawn in front of the window.
Il camino è spento in estate.
The fireplace is off in summer.
Ho appeso il quadro sopra al televisore.
I hung the painting above the television set.
---
What next?

➡️ Go to the objects in the living room vocabulary builder interactive exercises.
You might want to keep learning Italian online with these free Italian resources:
Title: Italian All-in-One For Dummies
Language: English / Italian
Publisher: For Dummies
Pages: 672
Learn to speak Italian like a native? Easy.
Italian All-in-One For Dummies appeals to those readers looking for a comprehensive, all-encompassing guide to mastering the Italian language. It contains content from all For Dummies Italian language instruction titles, including Italian For Dummies, Intermediate Italian For Dummies, Italian Verbs For Dummies, Italian Phrases For Dummies, Italian Grammar For Dummies, and Italian For Dummies Audio Set.
❤️ If you liked this lesson on the living room vocabulary in Italian, consider sharing it with your social media friends who are also studying Italian.