Quali sono i nomi dei mestieri in inglese? Come si pronunciano? Se vuoi rispondere a queste domande, allora sei nel posto giusto!
Se hai dei figli piccoli che studiano inglese all'asilo o alla scuola primaria, sicuramente ti interesserà sapere che esiste una serie di libriccini per imparare i mestieri in inglese più comuni!
Iniziamo!
---
🛠️ I mestieri in inglese nella pratica
I mestieri in inglese di chi ha le mani in pasta.
Nella tabella sottostante trovi il nome dei mestiere in inglese con la rispettiva traduzione in italiano.
Scorri più avanti in questo paragrafo per trovare clip audio ed esempi per ciascun tipo di mestiere!
🍲 Il cibo
I mestieri in inglese di chi manipola gli alimenti.
| Inglese | Italiano |
| --- | --- |
| Butcher | Macellaio |
| Farmer | Agricoltore |
| Cook, chef | Cuoco, chef |
| Fisherman | Pescatore |
| Baker | Fornaio |
| Pizza maker | Pizzaiolo |
| Pastry chef | Pasticcere |
| Ice cream vendor | Gelataio |
| Hunter | Cacciatore |
Adesso vediamo come si pronunciano questi mestieri in inglese insieme a degli esempi di utilizzo.
I bought this meat at the butcher's.
Ho comprato questa carne dal macellaio.
My grandfather was a farmer.
Mio nonno era un agricoltore.
The steak was cold. He complained to the chef.
La bistecca era fredda. Si lamentò con lo chef.
The fisherman caught a jellyfish in his net.
Il pescatore catturò una medusa nella rete.
The baker made a delicious almond pie.
Il fornaio ha fatto una deliziosa torta alle mandorle.
Why did the pizza maker toss the dough?
Perché il pizzaiolo ha gettato via l'impasto?
Mary is an aspiring pastry chef.
Mary è un aspirante pasticcere.
Where is the ice cream vendor?
Dov'è il gelataio?
The hunter shot the hare.
Il cacciatore sparò alla lepre.
Clicca qui per fare gli esercizi interattivi sui mestieri in inglese!
---
🔨 Lavoro manuale
I mestieri in inglese di chi usa strumentazioni specifiche.
| Inglese | Italiano |
| --- | --- |
| Laborer | Operaio |
| Plumber | Idraulico |
| Construction worker | Muratore |
| Mechanic | Meccanico |
| Carpenter | Falegname |
| Electrician | Elettricista |
| Cleaner | Addetto alle pulizie |
| Blacksmith | Fabbro |
Laborers normally work 8 hours per day.
Gli operai lavorano normalmente 8 ore al giorno.
The sink is leaking. I'll call the plumber.
Il lavabo sta perdendo. Chiamerò l'idraulico.
Construction worker
Muratore
The construction worker wore a high visibility vest.
Il muratore indossava un gilet ad alta visibilità.
The mechanic found a nail in one of the tires.
Il meccanico ha trovato un chiodo in uno degli pneumatici.
A carpenter is someone who works with wood.
Un falegname è qualcuno che lavora con il legno.
The electrician will fix the wires.
L'elettricista riparerà i cavi.
Cleaner
Addetto alle pulizie
Sarah is a cleaner.
Sarah è un'addetta alle pulizie.
The blacksmith was forging a sword.
Il fabbro stava forgiando una spada.
---
🎭 Belle arti
I mestieri in inglese di chi apprezza l'arte.
| Inglese | Italiano |
| --- | --- |
| Musician | Musicista |
| Dancer | Ballerino |
| Actor, actress | Attore, attrice |
| Singer | Cantante |
| Painter | Pittore |
| Photographer | Fotografo |
| Cartoonist | Fumettista |
| Illustrator | Disegnatore |
| Writer | Scrittore |
Who's your favorite musician?
Chi è il tuo musicista preferito?
Billy Elliot wanted to become a professional dancer.
Billy Elliot voleva diventare un ballerino professionista.
Actor, actress
Attore, attrice
The actor walked on stage.
L'attore raggiunse il palco.
I have always wanted to be a singer.
Ho sempre sognato di essere un cantante.
Da Vinci was a great painter.
Da Vinci era un grande pittore.
David is an experienced photographer.
David è un esperto fotografo.
I work as a cartoonist.
Lavoro come fumettista.
Charlie became a famous illustrator.
Charlie diventò un illustratore famoso.
Brandon Sanderson is a very prolific writer.
Brandon Sanderson è uno scrittore molto prolifico.
Clicca qui per andare agli esercizi interattivi sui mestieri in inglese!
---
🛎️ Servizi alla comunità
I mestieri in inglese di chi si interfaccia con gli altri.
| Inglese | Italiano |
| --- | --- |
| Barber | Barbiere |
| Hairdresser | Parrucchiere |
| Mailman | Postino |
| Cashier | Cassiere |
| Bartender | Barista |
| Gas station attendant | Benzinaio |
| Florist | Fiorista |
| Jeweler | Gioielliere |
| Clerk | Commesso |
| Waiter, waitress | Cameriere, cameriera |
| Tailor | Sarto |
| Security guard | Guardia di sicurezza |
| Firefighter | Vigile del fuoco |
| Soldier | Soldato |
| Sailor | Marinaio |
| Gardener | Giardiniere |
| Police officer | Poliziotto |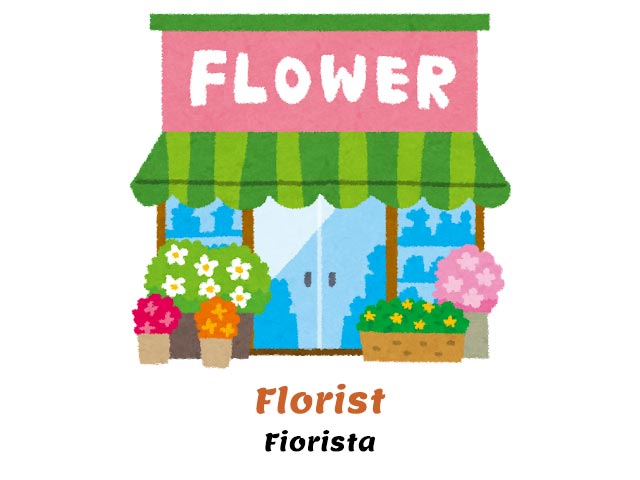 I asked the barber to cut my hair really short.
Ho chiesto al barbiere di tagliarmi i capelli molto corti.
I have my hair done at the hairdresser once a week.
Vado dal parrucchiere una volta a settimana a farmi sistemare i capelli.

Clara's dog always barks at the mailman.
Il cane di Clara abbaia sempre al postino.
My sister works as a cashier at the supermarket.
Mia sorella lavora come cassiera al supermercato.
The bartender asked us what we wanted to drink.
Il barista ci chiese cosa volessimo da bere.
Gas station attendant
Benzinaio
I used to work as a gas station attendant in my youth.
Quando ero giovane lavoravo come benzinaio.
A florist is a person who sells flowers.
Un fiorista è una persona che vende fiori.
I asked the jeweler to inscribe a message on the engagement ring.
Ho chiesto al gioielliere di incidere un messaggio sull'anello di fidanzamento.
I glanced at the clerk's name tag.
Diedi un'occhiata al nome sul cartellino del commesso.
Waiter, waitress
Cameriere, cameriera
The waitress came over to take my order.
La cameriera venne a prendere il mio ordine.
My father was a tailor.
Mio padre era un sarto.
Security guard
Guardia di sicurezza
The security guard made me open my briefcase.
La guardia di sicurezza mi fece aprire la valigia.
Firefighter
Vigile del fuoco
The firefighters were searching for survivors.
I vigili del fuoco stavano cercando dei sopravvissuti.
All the soldiers looked very young.
Tutti i soldati sembravano molto giovani.
The sailor is scrubbing the deck.
Il marinaio sta strofinando il ponte.
The gardener is clipping the hedge.
Il giardiniere sta potando la siepe.
I told the police officer what I saw.
Dissi al poliziotto quello che avevo visto.
---
🚗 Su ruote o su ali
I mestieri in inglese di chi viaggia.
| Inglese | Italiano |
| --- | --- |
| Pilot | Pilota |
| Bus driver | Autista di bus |
| Truck driver | Camionista |
| Flight attendant | Assistente di volo |
| Taxi driver | Tassista |
| Traffic warden | Vigile |
I want to be a helicopter pilot.
Voglio essere un pilota di elicotteri.
Don't talk to the bus driver while he's driving.
Non parlare all'autista dell'autobus mentre sta guidando.
How much do truck drivers make?
Quanto guadagnano i camionisti?
Flight attendant
Assistente di volo
The flight attendant asked me to change seats.
L'assistente di volo mi chiese di cambiare di posto.
Enrico is a taxi driver in Rome.
Enrico lavora come tassista a Roma.
A traffic warden asked me to move my car.
Un vigile mi ha chiesto di spostare la macchina.
---
🏥 Negli ambulatori
I mestieri in inglese di chi cura le persone.
| Inglese | Italiano |
| --- | --- |
| Doctor | Dottore, medico |
| Veterinarian | Veterinario |
| Nurse | Infermiere |
| Dentist | Dentista |
| Pharmacist | Farmacista |
| Surgeon | Chirurgo |
It is necessary that you see a doctor.
È necessario che tu veda un dottore.
We went to the veterinarian with our cat.
Siamo andati dal veterinario insieme al gatto.
The nurse drew my blood.
L'infermiera mi prelevò il sangue.
I'm scared of dentists.
Ho paura dei dentisti.
The pharmacist reads the prescription.
Il farmacista legge la ricetta medica.
He's an excellent brain surgeon.
È un fantastico neurochirurgo.
Clicca qui per fare gli esercizi interattivi sui mestieri in inglese!
---
📚 I mestieri in inglese nella teoria
I mestieri in inglese di chi ha il naso tra le scartoffie.
| Inglese | Italiano |
| --- | --- |
| Office worker | Impiegato |
| Editor | Redattore, editor |
| Journalist | Giornalista |
| Accountant | Commercialista |
| Secretary | Segretaria |
| Lawyer | Avvocato |
| Notary | Notaio |
| Librarian | Bibliotecario |
| Architect | Architetto |
| Engineer | Ingegnere |
| Scientist | Scienziato |
| Teacher | Insegnante |
| Estate agent | Agente immobiliare |
| Judge | Giudice |
| Psychologist | Psicologo |
| Freelancer | Libero professionista |
He's just an ordinary office worker.
È un semplice impiegato.
The editor was reading the manuscript.
L'editor stava leggendo il manoscritto
My son is a journalist.
Mio figlio è un giornalista.
I need to hire an accountant.
Ho bisogno di assumere un commercialista.
Alan told his secretary to cancel all his appointments.
Alan disse alla segretaria di disdire tutti i suoi appuntamenti.
I want to speak to a lawyer.
Voglio parlare con un avvocato.
My father is a notary.
Mio padre è un notaio.
The librarian kicked us out of the library because we were too loud!
Il bibliotecario ci ha cacciato dalla biblioteca perché facevamo troppo rumore!
Is Renzo Piano an architect?
Renzo piano è un architetto?
I'm a civil engineer.
Sono un ingegnere civile.
Alfred is studying to be a scientist.
Alfred sta studiando per diventare uno scienziato.
My father was a chemistry teacher.
Mio padre era un insegnante di chimica.
Estate agent
Agente immobiliare
My estate agent helped me choose a house.
Il mio agente immobiliare mi ha aiutato a scegliere una casa.
The judge pounded the table with his gavel.
Il giudice picchiò sul tavolo con il martelletto.
I've always wanted to be a child psychologist.
Ho sempre voluto essere uno psicologo infantile.
Freelancer
Libero professionista
I work as a freelancer translator.
Lavoro come traduttore professionista.
E sui mestieri in inglese è tutto!
Clicca qui per fare gli esercizi interattivi sui mestieri in inglese!
---
E ora?
Ora che abbiamo visto come si dicono i vari mestieri in inglese, continua a imparare l'inglese online con queste risorse gratuite:
Cerchi una fantastica risorsa per approfondire la grammatica dell'inglese con spiegazioni concise e tanti esercizi supplementari? Ti consiglio caldamente il volume nel riquadro sottostante.
Se ti è piaciuta questa lezione sui mestieri in inglese, considera di condividerla coi tuoi amici che stanno studiando l'inglese!