Learn the most common Italian phrases for the weather in this lesson.
💡 How to make the most out of this lesson? Make sure you test yourself and do the interactive exercises on Lingookies. Words and sentences need to be committed to memory by training and repetition. You will find drag & drop quizzes, dictation exercises and even pronunciation tests with speech recognition software!
Click here to go to the common Italian phrases for the weather interactive exercises!
Che tempo fa?
What's the weather like?
Fa bel tempo.
The weather's good.
È una bellissima giornata.
It's a beautiful day.
Fa brutto tempo.
The weather's bad.
C'è il sole. C'è sereno.
It's sunny.
Quanti gradi ci sono oggi?
How many degrees is it today?
Ci sono … gradi.
It's … degrees.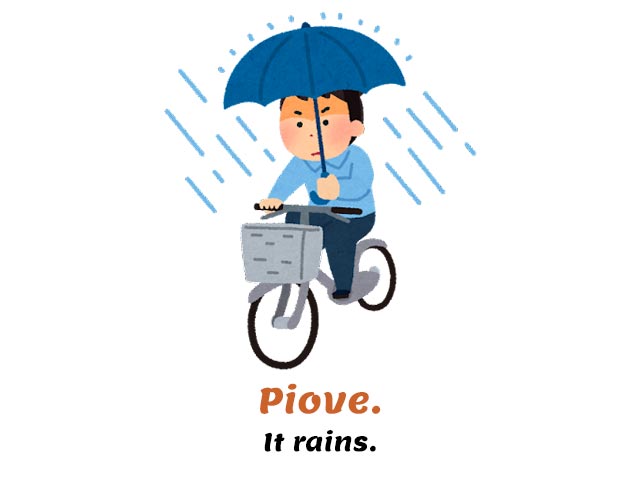 Sta piovendo a dirotto.
It's raining cats and dogs.
Fuori piove, prendi un ombrello.
It's raining outside, take an umbrella.
C'è nuvoloso.
It's cloudy.
C'è un temporale.
It's stormy.
La temperatura sta salendo.
It's getting hotter.
La temperatura sta scendendo.
It's getting colder.
Il tempo sta cambiando.
The weather's changing.
Che tempo farà domani?
What will the weather be like tomorrow?
Quali sono le previsioni del tempo per domani?
What's tomorrow's weather forecast?
Com'è il clima in Italia?
What's the climate like in Italy?
C'è troppo vento, non si può uscire.
It's too windy, you can't go outside.
---
What next?
Liked this lesson? Don't forget to share it with your friends who are also studying Italian! Help spread the Italian word!