It still means golden apple to this day, but it's actually a tomato in Italian.
Etymology: tomato in Italian comes from Latin pomum aureus, "golden apple".
Have you ever heard about the Pomodoro technique? This time management method borrows its name from this red Italian fruit. Or is it actually a vegetable? Either way, let's listen to its pronunciation.
Click here to go to the tomato collocations interactive exercises!
---
Adjectives for tomato in Italian
A pomodoro can be…
rosso
red
acerbo
unripe
maturo
ripe
fresco
fresh
verde
green
secco
sun-dried
ripieno
stuffed – it is delicious!
fritto
fried
I pomodori acerbi sono verdi, non li raccogliere.
Unripe tomatoes are green, don't pick them up.
Ho preparato dei pomodori ripieni per cena.
I made some stuffed tomatoes for dinner.
Pomodori in scatola
Canned tomatoes
Literally: Tomatoes in a box
Pomodori a fette
Sliced tomatoes
---
Verbs for tomato in Italian
You can…
tagliare
cut
affettare
slice
fare seccare
dry out
raccogliere
pick up
fare maturare
ripen
cuocere
cook
Oggi piove, non posso fare seccare i pomodori.
It rains today, I can't dry the tomatoes.
Come si fanno maturare i pomodori?
How do you ripen tomatoes?
If people are angry enough at you, they can also tirare (throw) un pomodoro at you…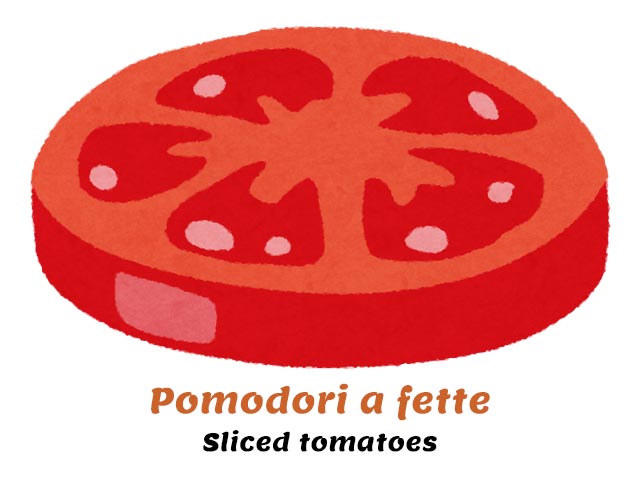 ---
Other collocations for tomato in Italian
Salsa di pomodoro
Tomato sauce
Passata di pomodoro
Tomato sauce
Literally: Tomato puree
Sugo di pomodoro
Tomato juice
Literally: Tomato juice
Conserva di pomodoro
Tomato juice
Literally: Tomato compote
Concentrato di pomodoro
Tomato paste
Literally: Tomato concentrate
---
Common sayings with tomato in Italian
Diventare rosso come un pomodoro
To get as red as a tomato
Meaning: To blush
---
Usage examples of tomato in Italian
Su questa pizza c'è troppa passata di pomodoro.
There's too much tomato sauce on this pizza.
Simone è diventato rosso come un pomodoro per l'imbarazzo.
Simone got as red as a tomato because he was embarassed.
I pomodori acerbi sono verdi e hanno un brutto sapore.
Unripe tomatoes are green and have a bad taste.
Pomodori verdi fritti alla fermata del treno
Fried green tomatoes (movie title)
Literally: Fried green tomatoes at the train stop
---
What next?
Liked this lesson? Don't forget to share it with your friends who are also studying Italian! You will find many sharing options at the bottom of every page. Help spread the Italian word!