Without it, Jack becomes a dull boy.
Etymology: play in Italian comes from Latin iocum ("joke").
Click here to go to the collocations for play in Italian interactive exercises!
---
Adjectives for game / play in Italian
A play can be…
educativo
educational
psicologico
psychological
originale
original
creativo
creative
ripetitivo
repetitive
rilassante
relaxing
violento
violent
duro
hard
aggressivo
aggressive
tranquillo
peaceful
vecchio
old
pericoloso
dangerous
classico
classic
strategico
strategic
coinvolgente
immersive
corretto
fair
scorretto
unfair
semplice
simple
Gioco sofisticato
Sophisticated play
---
Verbs for game / play in Italian
You can…
fare un gioco
play a game
giocare a un gioco
play a game
partecipare a un gioco
participate in a game
vincere a un gioco
win a game
perdere a un gioco
lose a game
inventare un gioco
invent a game
sviluppare un gioco
develop a game
abbandonare il gioco
abandon the game
rovinarsi al gioco
lose all money at gambling
entrare in gioco
to enter the game
rimanere in gioco
to stay in the game
Giocare in attacco
To play offense
Giocare in difesa
To play difense
Giocare sporco
To play dirty
Barare al gioco
To play dirty
Avere fortuna al gioco
To have luck at gambling
Scoprire il gioco
To reveal one's hidden motives
---
Other collocations for game / play in Italian
Giochi olimpici
Olympic games
Gioco per computer
Computer game
Gioco per bambini
Children's game
Gioco da tavolo
Board game
Literally: Table game
Gioco di società
Board game
Literally: Society game
Gioco di equilibrio
Game of balance
Gioco di squadra
Team play
Gioco di gruppo
Group play
Gioco individuale
Individual play
Gioco di enigmistica
Brain teaser game
Gioco di abilità
Game of skill
Gioco di forza
Power play
Literally: Strength play
Gioco di potere
Power play
Literally: Power play
Gioco di prestigio
Magic trick
Literally: Game of prestidigitation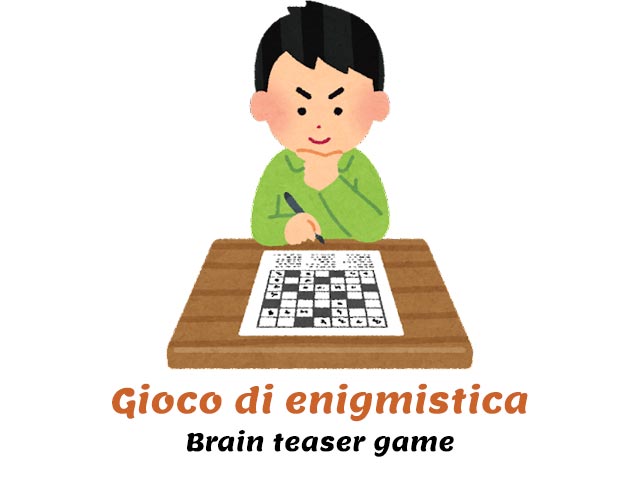 ---
Other words associated with game / play in Italian
Divertimento
Entertainment, fun
---
Usage examples of game / play in Italian
Ti piacciono i giochi di enigmistica?
Do you like brain teaser games?
Paolo ha sperperato una fortuna nel gioco d'azzardo.
Paolo dilapidated a fortune in gambling.
Sono rimasti in gioco solo tre giocatori.
Only three players are still in the game.
Il Monopoly è uno dei giochi da tavolo più famosi.
Monopoly is one of the most famous table games.
Preferirei che mio nipote facesse dei giochi educativi.
I would rather see my nephew make an educational game.
---
What next?
Liked this lesson? Don't forget to share it with your friends who are also studying Italian! Help spread the Italian word!