Did you know? Gift translates to poison in German…
Etymology: gift in italian comes from Spanish regalo, "gift to the king". (King in Italian is re.)
Click here to go to the gift collocations interactive exercises!
---
Adjectives for gift in Italian
A gift can be…
gradito
appreciated
sgradito
unwanted
inaspettato
unexpected
speciale
special
perfetto
perfect
modesto
modest
costoso
expensive
prezioso
precious
azzeccato
fitting
utile
useful
spontaneo
spontaneous
generoso
generous
gratuito
free
impegnativo
demanding, fancy
Che regalo vuoi per il compleanno? – Nulla di impegnativo.
What kind of gift do you want for your birthday? – Nothing fancy.
I usually throw away unwanted gifts.
Sono solito buttare via i regali sgraditi.
---
Regalo indovinato
Spot-on gift
Literally: guessed gift
Regalo scherzoso
Gag gift
Literally: joking gift
Regalo frivolo
Frivolous gift
Regalo riciclato
Recycled gift
Regalo simbolico
Symbolic gift
Regalo d'addio
Parting gift
Regalo di compleanno
Birthday gift
Regalo di Natale
Christmas gift
Regalo di nozze
Wedding gift
Regalo di anniversario
Anniversary gift
---
Verbs for gift in Italian
You can…
fare
make
incartare, confezionare or impacchettare
wrap
scartare
unwrap
dare
give
accettare
accept
aprire
open
ricevere
receive
comprare
buy
scambiare or contraccambiare
exchange
ricambiare
return
offrire
offer
spedire
send
restituire
give back
riciclare
recycle
Dai, scarta il regalo! Sono curioso di sapere cosa contenga.
Come on, unwrap the gift! I'm curious to know what's inside.
È maleducazione riciclare i regali.
It's bad manners to recycle gifts.
Apprezzare un regalo
To appreciate a gift
Rifiutare un regalo
To refuse a gift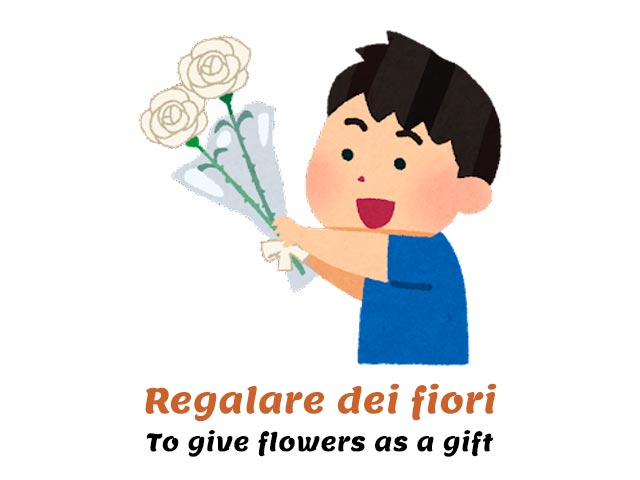 ---
Other collocations for gift in Italian
Articoli da regalo
Giftware
Un regalo da parte mia / tua / sua / nostra …
A gift from me / you / s/he / us …
Literally: A gift from my part, your part…
Confezione regalo
Gift box
Carta da regalo
Wrapping paper
When wrapping a gift, you can add a bigliettino (card, tag) and a fiocco (bow).
---
Common sayings with gift in Italian
Ricoprire di regali
To shower with gifts
Literally: To cover with gifts
Non vorrei … neanche se me lo regalassi!
I wouldn't want … even if you gave it to me!
Meaning: To hate something very much
---
Usage examples of gift in Italian
Che regalo hai fatto a Vittorio per il suo compleanno?
What gift did you give Vittorio for his birthday?
Durante le festività natalizie, la gente si scambia molti regali riciclati.
People exchange many recycled gifts during the Christmas holidays.
Incartare regali è la mia specialità.
Wrapping gifts is my specialty.
Ho dimenticato di comprare un regalo di anniversario per la mia ragazza.
I forgot to buy an anniversary gift for my girlfriend.
---
What next?
Liked this lesson? Don't forget to share it with your friends who are also studying Italian! You will find many sharing options at the bottom of every page. Help spread the Italian word!