Bland mix of flour, water and a sprinkle of salt. Put it in the oven, though, and it smells like heaven.
Etymology: bread in Italian comes from Latin panis.
Click here to go to the bread collocations interactive exercises!
---
Adjectives for bread in Italian
Bread can be…
fatto in casa or casereccio
home-made
ammuffito
mouldy
raffermo or stantio
stale
fresco or appena sfornato
freshly baked
croccante
crusty
tostato or abbrustolito
toasted
integrale
wholegrain
morbido
soft
nero
black
bianco
white
multicereale
multigrain
azzimo
unleavened
a fette
sliced
duro
hard
fragrante
fragrant
secco
dry
gratuggiato
grated
tradizionale
traditional
Dicono che il pane bianco faccia male.
It is said that white bread is not good for your health.
Puoi andare al supermercato e comprare una confezione di pane a fette?
Can you go to the supermarket and buy a package of sliced bread?
And lastly, in the Lord's Prayer it can be…
Dacci oggi il nostro pane quotidiano
Give us each day our daily bread
Literally: Give us today our daily bread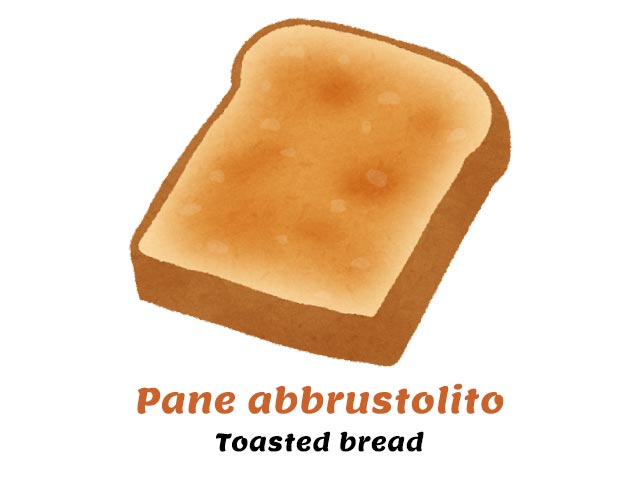 ---
Verbs for bread in Italian
You can…
infornare or cuocere
bake
fare
make
affettare
slice
spezzare
split
tostare or abbrustolire
toast
imburrare
butter
fare lievitare
leaven
impastare
knead
sbriciolare
crumble
tagliare
cut
bruciare
burn
Taglia il pane e mettilo in tavola, per favore.
Please cut the bread and put it on the table.
Oh no, ho fatto bruciare il pane!
Oh no, I let the bread burn!
Fabio spezza il pane con le dita.
Fabio splits the bread with his fingers.
Sbocconcellare il pane
To nibble at the bread
---
Other collocations for cookie in Italian
Fetta di pane
Slice of bread
Briciola di pane
Crumb of bread
Tozzo di pane
Chunk of bread
Pezzo di pane
Piece of bread
Boccone di pane
Morsel of bread
Filone di pane
Leaf of bread
Micca di pane
Leaf of bread
Pane alle olive
Bread with olives (inside)
Pane, burro e marmellata
Bread, butter and jam
Mollica di pane
The soft inside the bread
---
Common sayings with bread in Italian
Mettere a pane e acqua
To give someone only bread and water to eat
Meaning: To punish someone harshly
Rendere pan per focaccia
To give flatbread in exchange for bread
Meaning: To get even
Buono come il pane
As good as bread
Meaning: A very honest and kind person
Trovare pane per i propri denti
To find bread for your teeth
Meaning: To come across a challenge
---
Usage examples of bread in Italian
Sono andato al negozio a comprare una micca di pane.
I went to the store to buy a leaf of bread.
Il panettiere ha bruciato il pane.
The baker burned the bread.
Puoi tagliare il pane e metterlo in tavola?
Can you slice the bread and put it on the table?
Il pane alle noci è il mio preferito.
Nut bread is my favorite.
Metti sul davanzale il pane che si è avanzato: lo mangeranno gli uccellini.
Put the left over bread on the windowsill: birds will eat it.
---
What next?
Title: Come si fa il pane. Ricette passo a passo per pane e dolci da forno (How to bake bread. Step-by-step recipes for bread and pastries)
Language: Italian only
Publisher: Guido Tommasi Editore
Pages: 175
Many are rediscovering the pleasure of baking bread at home. With these simple yet powerful recipes for over 60 types of bread by the award-winning Emmanuel Hadjiandreou, you too will understand how easy it is to make bread and what satisfaction it can give.
Italian language only, not suitable for language beginners!
Liked this lesson? Don't forget to share it with your friends who are also studying Italian! You will find many sharing options at the bottom of every page. Help spread the Italian word!